The International Legal Technology Association (ILTA) recently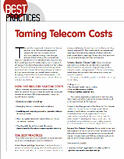 published an article on Telecom Expense Management Best Practices, "Taming Telecom Costs", co-written by John Franconere from SPS and John Venditti from MTS. The article was published in the March 2011 issue of ILTA's quarterly magazine, Peer to Peer.
The article explains the benefits of a Telecom Expense Management (TEM) solution and the areas in which a TEM solution can help an enterprise reduce their overall telecom spend and maximize the ROI of their telecommunication assets. The authors then outline the top nine telecom expense management best practices that drive telecom cost savings and ensure a successful long-term TEM initiative.
These telecom expense management best practices include:
Create Buy-in and Align Resources
Perform a Baseline Telecom Audit
Centralize the Management of the Telecom Environment
Evaluate your Telecom Contracts
Automate Telecom Expense Management Processes
Document Your Policies
Implement Activity-based Chargeback
Create a Telecom Performance Management Plan
Consider Outsourcing
The article then goes on to explain that "Telecom expenses account for a significant percentage of an organization's total budget. Implementing a TEM strategy based on these best practices can significantly reduce overall telecom spending and operational costs".